PIPELINE Conversation Hosts
SATURDAY, 10/27/18 – 5:30 PM: Kilolo Luckett
SUNDAY, 10/28/18 – 7:00 PM: Linda Haston
TUESDAY, 10/30/18 – 7:00 PM: Keyva Clark
WEDNESDAY, 10/31/18 – 7:00 PM: Kendra Ross
THURSDAY, 11/1/18 – 8:00 PM: Dorie Taylor
FRIDAY, 11/2/18 (Opening) – 8:00 PM: Tye Clark & Taliya R. Allen
SATURDAY, 11/3/18 – 5:30 PM: Edda L. Fields-Black
SATURDAY, 11/3/18 – 9:00 PM: Heather Hopson
SUNDAY, 11/4/18 – 2:00 PM:  Shaunda McDill
TUESDAY, 11/6/18 – 7:00 PM: Erin Perry
WEDNESDAY, 11/7/18 – 1:00 PM: Kim El
WEDNESDAY, 11/7/18 – 7:00 PM: Staycee Pearl
THURSDAY, 11/8/18 – 8:00 PM: Anna Hollis
FRIDAY, 11/9/18 (Greenroom) – 8:00 PM: Deesha Philyaw
SATURDAY, 11/10/18 – 1:00 PM: Edda Fields-Black
SATURDAY, 11/10/18 – 5:30 PM: janera solomon
SUNDAY, 11/11/18 – 2:00 PM: Tracy L. Edmunds
TUESDAY, 11/13/18 – 7:00 PM: Anna Hollis
WEDNESDAY, 11/14/18 – 1:00 PM: Kim El
THURSDAY, 11/15/18 – 8:00 PM: Education Law Center (Tiffany Sizemore Thompson and Cheryl Kleinman)
FRIDAY, 11/16/18 – 8:00 PM: Janis Burley Wilson
SATURDAY, 11/17/18 – 1:00 PM: Maria Searcy 
SATURDAY, 11/17/18 – 5:30 PM: Njaimeh Njie 
SUNDAY, 11/18/18 – 2:00 PM: Heather Hopson
Kilolo Luckett

Kilolo Luckett is an art historian, cultural producer, and writer. With over twenty years of experience in the arts, culture and community and economic development fields, she is committed to making art and culture more accessible. Kilolo has worked with national and international artists such as Louise Bourgeois, Larry Bell, Mischa Kuball, Tim Rollins + K.O.S., Tiona Nekkia McClodden, Tina Brewer, Vanessa German, Lenka Clayton, and Thaddeus Mosley. She is a contributing writer to the exhibition book Halston & Warhol: Silver & Suede. Kilolo is writing an authorized biography on Naomi Sims, who grew up in Pittsburgh and became one of the first black supermodels. She created By Any Means, a contemporary arts series that engages directly with leading artists, curators, writers, and cultural consumers to broaden the scope and understanding of contemporary art influenced by black culture. Kilolo recently launched Alma Lewis, an experimental, contemporary art platform for critical thinking, dialogue, and creative expression dedicated to Black culture. She is acting curator for Visual Arts at the August Wilson Center – African American Cultural Center and Arts & Culture  Coordinator at Everyday Café.
Kilolo was a cultural consultant for Atelier Ace, and worked as the cultural attaché for Ace Hotel Pittsburgh. Kilolo served as managing director of the Homewood Artist Residence (HAR), an initiative that advanced art as a social practice centered on the experiences of the African Diaspora. HAR is the recipient of the 2015 Mayor's Award for Public Art. She was director of development for The Andy Warhol Museum. Kilolo was the curatorial assistant at Wood Street Galleries, business development coordinator for Urban Design Associates, and Marketing and PR director at Pittsburgh Filmmakers.
Kilolo attended the University of Pittsburgh where she earned her B.A. in the History of Art and Architecture. She was an honoree of the 50 Women of Excellence by the New Pittsburgh Courier. She is the recipient of the Women in the Material World Award, an honor given by the Women and Girls Foundation for her contributions in economic development and the arts. She is a board member of the Braddock Carnegie Library and serves on the City of Pittsburgh's Art Commission.
She has worked extensively in the arts and culture scene in Pittsburgh. Kilolo was director of development for The Andy Warhol Museum. Kilolo was the curatorial assistant at Wood Street Galleries, and founded Making A Scene (MAS), where she worked with The Pittsburgh Cultural Trust, The Andy Warhol Museum and Manchester Craftsmen's Guild to initiate a collaborative project; the result was a 10-day interdisciplinary art event held in downtown Pittsburgh's Cultural District that promoted regional artists, designers, and small arts groups. Kilolo was director of marketing and PR at Pittsburgh Filmmakers. She was selected by The Pittsburgh Foundation and The Heinz Endowments to participate as an advisor and consultant for The Creativity Project, a research and evaluation assessment of Pittsburgh's individual artists and small arts organizations.
She has been an advocate for social and educational equity for girls and women in the Pittsburgh region. Kilolo served on the steering committee for the inaugural Girls Coalition Conference. She volunteered her services as an advisor to a two-year pilot program that focused on the philanthropy of teenage girls. The program was called Girls As Grantmakers, a project of the Women and Girls Foundation (WGF), FISA Foundation, Eden Hall Foundation and the Jewish Women's Foundation. Kilolo coached girls basketball at The Ellis School and Winchester Thurston School.
Kilolo has traveled to Europe, North Africa and Mexico, where she spent a summer in Guadalajara teaching English to children and building houses for low-income families. In her spare time, she enjoys mentoring youth, exploring nascent dining places, and geeking out in libraries.
Keyva Clark
Keyva Clark is the Communication Analyst in the office of Mayor William Peduto. In the Mayor's office, Clark serves as the official liaison to the Mayor's LGBTQIA+ Advisory Council, where she formally was a council member herself. Recently Clark began her Master's in Public Management at Carnegie Mellon University. She graduated from the University of California, Riverside Cum Laude with a bachelor's degree in Political Science and Minor in Middle Eastern and Islamic Studies. Clark moved to Pittsburgh in 2015 to participate in Coro as a Fellow in Public Affairs. Since completing Coro she has gone on to work for, For Our Future Fund as a Regional Field Director in Allegheny County, Communications Coordinator at E-Holdings, and most recently the Campaign Manager for Pittsburgh's Mayor Peduto. Clark is set on eventually running for public office herself. Clark is an active board member for Women and Girls Foundation Influential Leaders Board, Parliamentarian for Urban League Young Professionals, and a board of directors member for Emerge Pennsylvania. In her spare time, Clark enjoys cooking, reading, and traveling.
Kendra Ross
Kendra Ross, Cultural Worker/Partner, ACT3 Consulting Partners, LLC
Kendra Janelle Ross is an award-winning cultural worker and social entrepreneur who is passionate about the nexus between artistic practice, arts advocacy, scholarship and social justice. She has spent nearly 20 years as a music business professional coordinating and managing record label operations at top global music corporations. She's also spent 15+ years writing, recording and performing music as a solo artist and in collaboration with celebrated artists. When not on stage or in the boardroom, Kendra is an arts advocate and cultural organizer in Pittsburgh and a doctoral candidate in Community Engagement at Point Park University. kendraross.com
  Dorie Taylor
Dorie Taylor | Taylor Made Consulting, LLC
Dorie is a daughter of southern-born Civil Rights activist and educator parents, the youngest sibling, partner to her spouse, and a devoted mother to two young boys. Professionally, Dorie has 20 years of experience in arts and events management and is the principal of Taylor Made Consulting.
Dorie combines her performing arts background, arts management education from Carnegie Mellon University, and years of eclectic event experiences with nationally recognized institutions like ABC Television, ESSENCE Magazine, The Metropolitan Museum of Art, and Remake Learning, among others, to support clients in making successful event decisions. Having recently completed 200 hours of AntiRacist Raja Yoga Teacher Training, Dorie enjoys the opportunity of working with clients to develop mindful, meaningful, and unifying events that uplift people and communities in a way that is befitting of the organization's mission and vision.
Tye Clark & Taliya R. Allen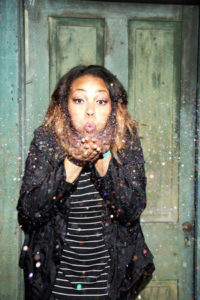 TYE CLARKE: DIRECTOR OF PR & CREATIVE ENRICHMENT
Pittsburgh born publicist and events consultant, Tye Clarke, is a creative powerhouse with the belief that the artistry of storytelling can change lives. After attending world renowned Parsons School for Design and graduating from Kent State University, she packed her bags and moved to Brooklyn, New York.
While living in NYC, she managed social media, PR, events and communications for companies including the American Cancer Society, Kaufmann Mercantile and BCBGMAXAZRIA. In 2016, she launched her own PR and events consultancy.
An avid lover of culture, philanthropy and art, she believes that happiness in where the three intersect. With her desire to live beyond the scope of monotony, Tye understands that life begins at the end of your comfort zone and believes that mantra holds true no matter the circumstance.
As 1Hood's Director of PR and Creative Enrichment, Tye is responsible for artist management, branding, event planning, digital content and strategic communication.
TALIYA R. ALLEN: DIRECTOR OF ARTS EDUCATION AND CULTURAL ENRICHMENT
Taliya Allen is an educator, youth organizer and activist from Brooklyn, NY. Taliya Attended the illustrious Clark Atlanta University where she majored in Political Science and minored in English on the Pre-Law track, pursuing her lifelong dream of being an international human rights lawyer. However, with the state sanctioned murder of Troy Anthony Davis in 2011, Taliya began to lose faith in the justice system as a means to create change, and shifted her focus to education, graduating Magna Cum Laude from Clark Atlanta and being accepted into the 2013 Teach for America Hawaii corps.
After teaching sixth grade on the Big Island of Hawaii, she eventually relocated to Pittsburgh, PA to continue her work with youth in communities of color. Having received her MS in Education from Johns Hopkins University, she began leveraging her experience in education and her passion for social justice and human rights to begin work as an administrator. Taliya's role as 1Hood Media's Director of Arts Education and Cultural Enrichment is to provide curriculum development and cultural focuses and administrative support to the organization.
Taliya also writes creatively and hopes to further her impact in social justice through the written word. She believes that where passion, creativity and strategy meet, amazing things can happen. She lives by the mantra "It is not the meek that shall inherit the Earth, but the creative."
Edda L. Fields-Black
Dr. Edda L. Fields-Black, Associate Professor at Carnegie Mellon University (Department of History), is author of several scholarly books and articles on the trans-national history of West African rice farmers and Blacks enslaved on Lowcountry SC and GA rice plantations.  As executive producer and librettist, Fields-Black is collaborating with composer John Wineglass and filmmaker Julie Dash to produce a multi-media contemporary classical music event, Casop: A Requiem for Rice www.requiemforrice.com, opening on February 13, 2019.
Heather Hopson, Founder Communications Director, Motormouth Multimedia
Not long ago, Heather Hopson lived in the Cayman Islands and hosted a television show. Today, she's back home in Pittsburgh writing a different type of story as the founder of Motor Mouth Multimedia, a communications and marketing firm that addresses the needs of a gig economy. Through a vast collective of creatives and consultants of color, Motor Mouth Multimedia assembles teams to tell diverse stories, provide unique perspectives and increase the visibility of important issues for clients, such as Healthy Ride, K-Mart, Netflix and United Way of Southwestern Pennsylvania. Currently, through Advancing Black Arts in Pittsburgh, Motor Mouth Multimedia is exhibiting a photo essay and video series entitled Single Mom Defined. The exhibit features 50 families and provides a much more accurate and positive definition of single black motherhood than the one society presents. Inspired by her daughter, Hopson also oversees her popular t-shirt company, MommynMeTees.com, which donations a portion of the proceeds to charity. In her spare time, she manages a single mothers group, a parenting website and volunteers with Healthy Start Pittsburgh.
 Shaunda McDill, Program Officer for the Heinz Endowments
Shaunda McDill joined The Heinz Endowments in October 2017 as the program officer for arts and culture, following more than a decade of nonprofit executive and arts management experience. Most recently, she was a publicist for the Blake Zidell and Associates, a Brooklyn-based public relations firm representing artists, arts institutions and festivals.
Shaunda has worked for theater companies across the country, including The Goodman Theatre of Chicago, Second Stage Theatre, Yale Repertory Theatre, Pasadena Playhouse and Cornerstone Theater Company. She also founded demaskus, a nonprofit, service-oriented collective of artists and administrators who produce theatrical projects sharing stories of the marginalized.
In Pittsburgh, Shaunda served as vice president of programming and cultivation at the August Wilson Center for African American Culture, where she managed all artistic and educational programs, and oversaw a $1 million programming budget. As the Pittsburgh Cultural Trust's director of public relations, she headed both national and local public relations campaigns, including the North American premiere of Florentijn Hofman's Rubber Duck Project, which generated more than $10 million in direct spending in the city.
Erin Perry
Since 2011, Erin Perry has been the executive director of the Legacy Arts Project. As a graduate of the Katz Graduate School of Business, she applies her academic training within a community setting, utilizing arts as a tool for transformation both individually as well as collectively. Miss Perry has been an active member of Legacy since 2005, participating as a member of the dance ensemble through present day. With an extensive background in teaching, Miss Perry has impacted children and adults from Wilkinsburg to Taiwan, teaching classes in English, Math, Photography, and Movement. As a mother of two growing boys, her focus continues to be grounded in the upliftment of humanity through knowledge of self.
Kim El
Kim El is an award-winning Pittsburgh-born playwright, actor, director and educator who uses words and movement to stimulate human consciousness.   She earned her Bachelor's of Arts Degree in Journalism from Duquesne University. She is a member of The Dramatist Guild, Delta Sigma Theta Sorority and is included in The New Pittsburgh Courier's Women of Excellence. Kim has written 15 plays and is best known for the production of her one-woman show, Straightening Combs.
Staycee Pearl
Staycee Pearl received her initial dance training at Dance Theatre of Harlem and the Alvin Ailey American Dance Center. In 2009, Staycee earned a degree in Studio Arts/Africana Studies graduating with honors from the University of Pittsburgh. She went on to develop the creative production vehicle, PearlArts Studios with husband Herman Pearl. She has enjoyed over 25 years as a dance and visual artists, and has choreographed musicals, and operas for universities, theatrical ensembles and opera theaters.
Anna Hollis, Executive Director of Amachi Pittsburgh
Anna E. Hollis is the Executive Director of Amachi Pittsburgh, an organization on a mission to help make children and families of the incarcerated whole. A native of Pittsburgh's Hill District and graduate of Howard University, Anna has been a longstanding advocate for social change and has forged strong working relationships with the executive, legislative, and judicial branches of state government, along with county and local officials. She has developed programming that empowers youth and families to engage in systems change, and her leadership in this regard has led to the introduction of groundbreaking legislation in Pennsylvania.  Anna is highly regarded for her work and frequently sought out for her expertise, serving on a number of local and statewide policy- and systems-oriented initiatives.
Deesha Philyaw, writer and author
Deesha Philyaw is the co-author of Co-Parenting 101: Helping Your Kids Thrive in Two Households After Divorce, written with her ex-husband. Her fiction and nonfiction writing on race, parenting, sex and culture have appeared in The New York Times, The Washington Post, McSweeney's, brevity, Apogee Journal, Catapult, The Rumpus, Cheat River Review, dead housekeeping, Full Grown People and The Pittsburgh Post-Gazette; and Bitch, Essence and Ebony magazines.
janera solomon, Executive Director of Kelly Strayhorn Theater
janera solomon is the executive director of the Kelly Strayhorn Theater, a historic live arts venue in Pittsburgh now in its tenth year of presenting progressive, evocative new works in dance, music, film, education and cultural programming. Her curatorial work includes projects with some of contemporary performance brightest stars including: Kyle Abraham, Camille Brown, Thaddeus Phillips, Sidra Bell, Sean Dorsey, Jaamil Kosoko and Bill Shannon.
Recognized for her transformative leadership and contributions to the revitalization of East Liberty, janera managed the merger of the Kelly Strayhorn Theater and the Dance Alloy in 2011, while maintaining affordable dance instruction at The Alloy School and creating a series of diverse programs designed to inspire and engage a wide range of audiences.
She has a passion for artists creating new work and has served as curator and advisor to a variety of artistic projects. In 2014, janera formed the August Wilson Center Recovery Committee. In 2015, janera was featured in Pittsburgh Magazine's as one of the "50 Most Powerful People in Pittsburgh."
Tracy L. Edmunds
Tracy L. Edmunds is Vice President of Arts Education for the Pittsburgh Cultural Trust. She provides visionary and strategic leadership that allows Trust Arts Education to serve as a premier provider of arts education experiences for students, educators, and communities. Ms. Edmunds received her B.A. from the University of Pittsburgh and an M.A. from Point Park University. Currently she is a member of the Board of Directors for Alumni Theater Company and Greater Pittsburgh Arts Council.
Education Law Center (Tiffany Sizemore Thompson and Cheryl Kleinman)
Tiffany Sizemore is an Assistant Clinic Professor of Law at Duquesne University School of Law where she developed and directs two clinics that seek to dismantle the school-to-prison pipeline: The Juvenile Defender Clinic and The Education Law Clinic. Prior to joining Duquesne Law, Tiffany was the Deputy Director for the Juvenile Division at the Office of the Public Defender (OPD) in Allegheny County, Pennsylvania, where she served for over two years. As Deputy Director for the Juvenile Division at OPD, Tiffany managed eleven full-time juvenile defense practitioners. As Deputy, Tiffany wrote and implemented new practice standards across the juvenile division at OPD.
Prior to being in Allegheny County, Tiffany was a trial attorney for eight years at the Public Defender Service for the District of Columbia, which is widely regarded as the premier public defender organization in the country.
Tiffany has conducted various trainings over her time as a clinical professor and public defender, including training on: fundamentals of evidence, effective juvenile disposition advocacy, and fundamental trial skills training. In 2014, Tiffany became a nationally certified trainer through the National Juvenile Defender Center's Juvenile Training Immersion Program. She also joined the faculty of NJDC's Summer Academy in 2016. She conducts trainings for juvenile defenders from across the country. Tiffany is the current Vice President of the Board of Directors for the Juvenile Defender Association of Pennsylvania. She is also the co-director for the Northeast Regional Juvenile Defender Center.
Tiffany graduated from Howard University School of Law, cum laude, in May 2004. For her undergraduate studies, she attended Antioch College in Yellow Springs, Ohio where she received her Bachelor's Degree in Education.
Cheryl Kleiman is a civil rights attorney at the Education Law Center, where she advocates to ensure all students have equal access to public education. Her work focuses on school climate, fair funding, and equal opportunity to advance race, gender, and disability justice – with a focus on students at the intersection of multiple laws and systems. Her work blends impact litigation, policy advocacy, and community engagement to create systemic change and build power.
Janis Burley Wilson
Janis Burley Wilson has been a cultural innovator for over almost two decades in Pittsburgh and beyond. She was named President/CEO of the August Wilson Center for African American Culture in July 2017.   Prior to this appointment, she worked for the Pittsburgh Cultural Trust for fifteen years as Vice President of Education and Community Engagement, then later as the Vice President of Strategic Partnerships & Community Engagement. Her reinvention of the Pittsburgh jazz scene elevated her to Director of Jazz Programs in addition to her vice presidential roles. Burley Wilson's work has diversified the Pittsburgh arts scene with programs like the Gallery Crawl, a downtown quarterly art showcase which she created in 2004. Other noteworthy programs that have grown and flourished under her management are Highmark First Night Pittsburgh and Showcase Noir, making dramatic programmatic changes to diversify audience and donor base. She also has forged hundreds of artistic partnerships and community connections that have made the Pittsburgh Cultural Trust and the Cultural District more accessible.
Janis started the weekly music series JazzLive in 2003 and the Pittsburgh JazzLive International Festival (PJLIF) in 2011. Her entrepreneurial efforts have attracted sponsors and partnerships with long established jazz presenters and festivals. One of the few women jazz presenters in the country, Janis has been asked to speak at national conferences about women in jazz, diversity and using the arts as a catalyst for economic development, and she represents the PJLIF internationally.  Most recently, she has developed the last two seasons of programming at the newly reopened August Wilson Center. Programming highlights include the Fences movie costume exhibit in collaboration with Paramount Pictures, the inaugural Black Bottom Film Festival, and Smoothfest, a weekend of smooth jazz. Burley Wilson, a Pittsburgh native, resides in the suburb of Monroeville with her three children.
Lynne Hayes-Freeland
Lynne Hayes-Freeland is a general assignment reporter known for live, late-breaking reporting for KDKA-TV News. She is also producer/host of "The Lynne Hayes-Freeland Show," a weekly half-hour show, that concentrates on local African American issues.
She began her broadcast career as the producer of the Roy Fox Show on KDKA-Radio. Since joining KDKA-TV2 in 1976, Lynne has held a variety of positions. She was a field producer for the station's "Evening Magazine" program. In 1981, Lynne moved to the station's programming department where she created "Weekend Magazine", produced what was then known as the "Vibrations" program, and directed a variety of commercial efforts. In 1985, Lynne began a five-year stint as the producer of KDKA's Annual Children's Hospital Free Care Fund Telethon. As a result of those efforts, Lynne was named Director of Community Programs until her move to the news department.
An active member of Alpha Kappa Alpha Sorority, Inc, Lynne has also been involved in a variety of community service work including volunteering time on several local Boards. Her work has been recognized by organizations both locally and nationally.
A graduate of St. Paul's Cathedral, now part of Oakland Catholic, and Duquesne University, Lynne resides in Pittsburgh.
Maria Searcy
Maria Searcy is a Parent Involvement in Education (PIE) consultant for the Pennsylvania Department of Education.  She provides training to school districts across the state to help them increase parent involvement in their schools.  For the past 9 years, she has served as a volunteer member of the PA Title 1 State Parent Advisory Council (SPAC).  In 2008, she was appointed to the Equity Advisory Panel, Pittsburgh Public Schools where she monitors district data and makes recommendations to central administration on ways to eliminate racial disparities, and close the persistent achievement gap between black and white students.  The group originated as the Advocates for African American Students, and was organized in the mid-1980s by the late Dr. Barbara A. Sizemore.
Maria is a native of Pittsburgh and a graduate of public school system.  After high school, she attended Robert Morris University and obtained a bachelor's degree in accounting.  For the next 12 years she worked as a corporate auditor for several companies, including Highmark and Federated Investors, Inc.  In 1995, she successfully transitioned to entrepreneurship and opened a small business.  This career change, and motherhood facilitated her current work as a Parent Engagement specialist.  Currently, Maria leads the Northside Parent Action Council (N-PAC), a newly formed, community action group that began as part of the Pittsburgh Parent Power initiative with the Annenberg Institute for School Reform, Brown University.  She is an active member of the advisory board for the Transformative Arts Process (TAP) — a program of the Heinz Endowments that engages professionals, community members and students to guide grantmaking for Black artists, youth, and youth-serving organizations in their home neighborhoods.
In 2012, she received the "Community Empowerment Award" at the Summit for Courageous Conversations, Pacific Educational Group.  The award is presented to local leaders who effectively broker collaboration—focused on racial equity—between and among community members and their schools.  A dedicated community activist and parent advocate, Maria obtained state certification as a tutor to help struggling students in several schools in her neighborhood.
Maria is a wife, and proud mother of two daughters, Brett and Chandler.